New AbilitiesFacts and Figures of Uyghur Region

Capital: Urumchi
Area: 1,600,000 square kilometers
Nationalities: Uyghur, Han, Kazak , Hui, Mongolian, Xibe, Kergez, Uzbek, Tajik, Russian, Manchu, Daur , and Tartar
Altitude: 8,611 meters at the Qogir Peak(K2); 155 meters below sea level at the bottom of the Turpan Depression, the second lowest point in the World
Climatic features: temperate, continental climate; warmer in the south; extreme temperature changes; little recipitation.
Average temperature: in January, minus 20 - minus 15 centigrade degree in the north and minus 10 - minus 5 degree in the south; in July, 22 - 26 degree. Click here for latest weather forcast.
Annual average rainfall: 150 mm; higher precipitation in the north;only 10 mm around Qarqan and Qarkilik
Physical features: three major mountain ranges separate the lowlands into various-sized basins and valley lands; conspicuous differences in land elevation
Mountains: Tangri Tagh Range in the central area; Altay Range in the north; Qaraqorum, , and Altun Mountains in the south
Deserts: Taklimakan Desert in the Tarim Basin; Gurbantunggut Desert in the Junggar Basin; Gumtay Desert in the east
Basins: Junggar Basin between the Tangri Tagh and Altay Ranges;Tarim Basin between the Tianshan and Qaraqorum Ranges, over 500,000 square kilometers in area; Turpan Depression between the Bogda and Qoltag Mountains; east of the Turpan is the Hami Basin.
Rivers: the 2,137-kilometer Tarim River, second longest inland river in the world ; lli and Ertix Rivers
Lakes: Lop Nur, a famous salt lake; Bosten Lake, the largest fresh water lake of the region; Aydingkol Lake in the Turpan Depression, with the second lowest altitude in the Wolrd
Products: petroleom, natural gas, wheat, rice, corn, sorghum, millet, potatoes,rape, sesame, sugar beet, peanuts; peaches, grapes; cotton, silk cocoons; iron, coal, , gold, copper, salt, jade, sulfur
Specialties: Turpan grapes, Qumul melons
Neighboring areas: Gansu and Qinghai Provinces; Tibet Autonomous Region
Neighboring countries: Mongolia, Russia, Afghanistan, Pakistan, and India
Major cities: Urumchi , Kashgar , Ili , Qumul , Qaramay, Aksu,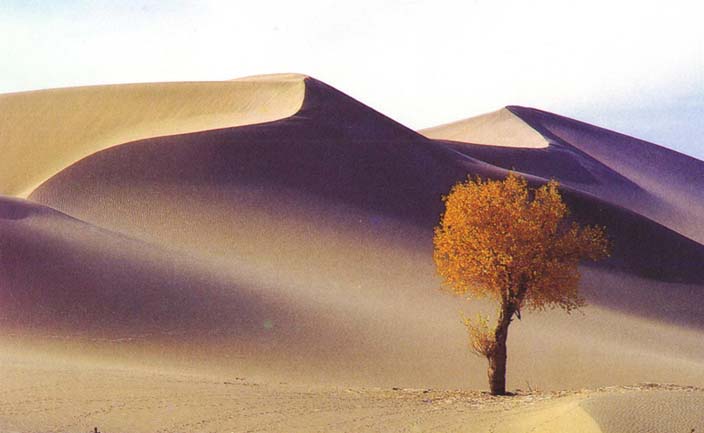 Some useful information about the Uygbhur Region
Uyghur Region is surrounded by mountains. It depends upon snow melt water from these mountains to irrigate its oases. Uyghur Region's oases are isolated, separated from each other by large expanses of desert.
The Uyghur Region environment is fragile: over 90 percent of the land is mountain, hilly, desert, or semi-desert waste (gobi). Only 5 percent of Xinjiang's area supports human life so the population pressure on the oases is very high. Some oases have a population density of over 197 people per square kilometer. The area lost to the desertification has increased from 370,000 sq. kilometers to over 420,000 square kilometers. The advance of the desert has forced people to move upstream along the rivers. The location of the ruins of the ancient cities conquered by the desert and the location of human habitation today is a sign of the advance of desertification.